The long and winding road.
11th February 2009
The Glen Muick road was properly cleared this morning. The rangers were liberated from the end house after 5 days. The dog was down to being fed pasta! (well nearly).
The road was black when we came down.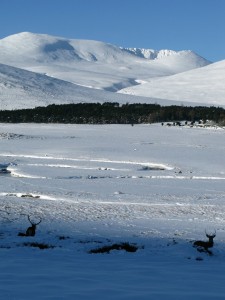 I don't know what point I thought it would be good to walk up to Lochnagar but I guess I've probably been on my ski's too much. Not an easy walk! It took us around 2hrs 15 to the col. Of course that was without climbing gear but breaking trail. All I can say is walking out from higher elevations will be easier, ski area for example where plateau areas are much firmer. The Lochnagar trail is a postholing wading nightmare. Glyn, another Balmoral ranger was ahead on his snowshoes and there was another skier up front. 
Hopefully it'll be a little better before the weekend. I think the Dubh Loch may make a better ski/climb combo.
Pic: South Sector. You can see some snow being blown out over the crag. The wind was stronger than forecast.

Pic: Glyn on his snowshoes.

Pic: Lochnagar, again note winds blowing snow off, equally blowing into Black Spout.
Comments on this post
Got something to say? Leave a comment