Let it snow!
3rd February 2009
I don't think there was really as much snow as they forecast but we still got a dollop.
There is still widespread ice, we needed to fit crampons to get across easy angled slopes today.
The winds are blowing into Lochnagar, hopefully the good climbing is getting better! Hope to visit there later in the week. Tomorrow looks very snowy again.
Pic: Starting to assess the slope. There is a 125 ski pole in my left hand, most of the new snow was in the last 12 hours.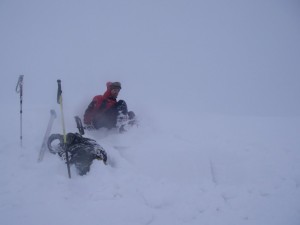 Pic: Ali in the process of field tests.
Comments on this post
Got something to say? Leave a comment