Bluebird day.
13th February 2009
Cracking day today. After yesterday's kicking in the poor vis I found I actually could ski today!
I must confess to using the Glas Maol tow……er, a lot, before dropping over the back. 
General cover has firmed up, plenty tiresome walk-in's left though. Ski is undoubtedly the best way round the hill at the moment. Still plenty forest/valley skiing to go at as well.
Stability of any snow in the sun continues to improve. Snow in shaded areas remains poorly bonded to the ice underneath. Generally not deep on open slopes, but deeper in gullies. 
Not to important today, but tonight the freezing level will rise to 1000 metres, some caution required I think. Recently formed cornices may end up triggering some slopes. This shouldn't be widespread, still expect to see lot's of people around at the weekend.
Have fun…….!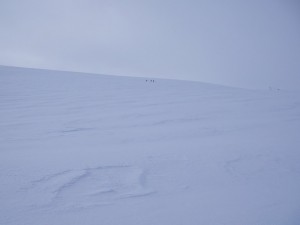 Pic: Walkers heading down the plateau from Glas Maol.

Pic: There were a few tourers around, noticed some skiing into Garbh Corrie, seems a popular trip recently.
Comments on this post
Got something to say? Leave a comment