Those empty hills.
27th January 2009
The snowpack is starting to settle down now. That said there is still some unstable snow on steeper slopes. Perhaps biggest concern is some of the cornices which formed at the weekend. Freezing level may reach 1200 metres before dropping back down again, some cornices may be prone to collapse which if large enough may trigger the slope.
What I have noticed over the last couple of days is how empty the hills are. On a day like today at Glas Maol I would expect to see a few walkers/tourers. The only people I saw were two BMRT members having a good tour out. I suspect it may be after the weekends events at Glencoe.
On the White Mounth it looks like you can do most of the tops on ski.
Glenshee seem to be opening more lifts, the on piste skiing is in great shape. 
Pic:
 If you look carefully you'll see the snow fences on the top Glas Maol run are just about showing . Plenty snow then!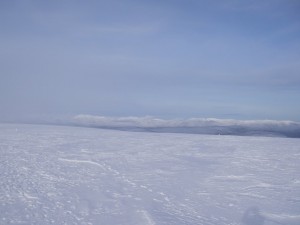 Pic
: Looking to The Cairngorms from Glas Maol summit.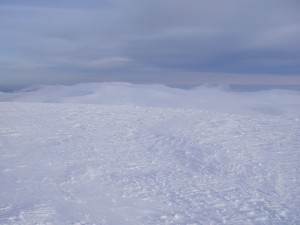 Pic:

A very white White Mounth. Lochnagar in distance.
Pic:

Looking to Creag Leacach.
Comments on this post
Got something to say? Leave a comment