High Pressure.
2nd January 2009
It continues to be calm on the hills, but there was some cloud starting to roll in this afternoon.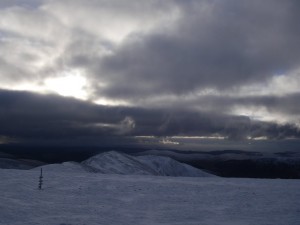 Pic: Looking to the munro, Creag Leacach.
Ice is slowly forming in watercourses.

The crag on the back of Glas Maol has got some build up on it. Not the best viewpoint but the route in the guide book has ice all the way up it. I noticed Snip Snip at Corie kander is icing up well but the main crags are generally bare. Like most other locations gullies are generally good. Any snow is rock hard with runouts finishing on pointy boulders!
Comments on this post
Got something to say? Leave a comment