Avalanche Watching – Lochnagar 20th January
20th January 2009
Photos aren't crystal clear folks as it was actually quite cloudy today and this was the best the visibility became. Compare these photos to those taken on the 16th January and you will be able to see how much more snow is in there. Although it was a mainly dry day the winds over the top of the cliffs were strong and drifting was heavy and constant. I watched a constant stream of spindrift coming down "the parallels" then I heard a noise – and saw an avalanche coming out of Douglas-Gibson Gully. There was already debris at the bottom so it wasn't the first.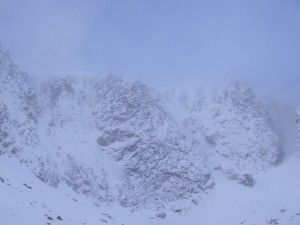 Saw a large spindrift avalanche come out of Parallel A Gully, and another big one out of Parallel B Gully…. oh and a big avalanche came out of Raeburn's Gully with the debris going way down into the boulder field….getting bored yet? Oh well – I saw another one out of the top of Amphitheatre Route!
And there is avalanche debris out of Black Spout and under West Buttress
There's a bit of a theme here isn't there? Lochnagar is going to need some melt-freeze to settle down. There's plenty of snow around now but it's just not very useful yet….apart from the fact that it is pretty scary in there at the moment! So patience folks… given the right follow up conditions there's plenty of potential.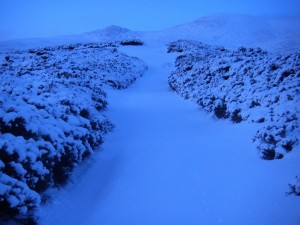 Oh and one final photo to show you all how hard we work for you – That's a pristine track up to Lochnagar – another few miles of trail breaking ahead of us! If you are wondering why the photo is a funny colour – it's because it is really early morning – I'm so slow I have to set off before day break…
Sam
Comments on this post
Got something to say? Leave a comment