Much colder
3rd March 2008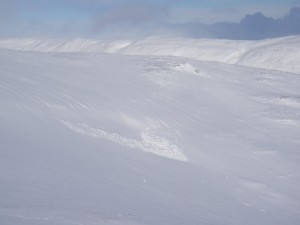 Avalanche debris on Carn a'Gheoidh (E aspect) at 940 metres
(Approx width 75 metres)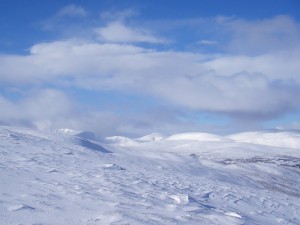 Looking West from Carn nan Sac
As the view from Can nan Sac over Carn a'Gheoidh with Glas Tulaichean in the background shows East aspects are holding more snow now above 800 metres. It remains thin below this altitude. The majority of the snow is firm if a little crusty in places with scouring in exposed areas. Sheltered East aspects above 800 metres are holding windslab, and for some locations this is quite deep and weakly bonded. Although the day remained dry it was very cold with a significant wind chill effect. The cold snow is very dry and was drifting constantly in more exposed locations.
Although it is hard to tell from the photograph as there is nothing to give any scale, the avalanche on Carn a'Gheoidh was a decent medium size avalanche. There is a slight steepening of the slope at the start zone but it isn't a particularly steep slope in itself. Made us think twice about going onto the steeper slope around the corner!
The overnight forecast is for scattered snow showers on 25mph NW winds. It will be very cold with a 100 metre freezing level. The winds will be lighter on Tuesday – 20 mph NW with a 300 metre freezing level and mainly dry. The degree of drifting will be less than today as the winds ease back, but won't cease entirely. The snow will remain cold and dry and will be slow to consolidate. The windslab therefore will remain unstable and recent deposits should be avoided especially on steeper ground. Areas free of windslab have firm snow that is giving decent climbing conditions.
Sam
Comments on this post
Got something to say? Leave a comment