Lochnagar
17th March 2008
Lochnagar is looking fairly wintry again. The neve is solid and the freezing level has dropped. With the wind blowing into the corrie for the last few days there has been some hoar build up on the buttresses.
Walkers heading to the 'Ladders' with a couple of climbers on The Sentinel. (Rocky buttress on right).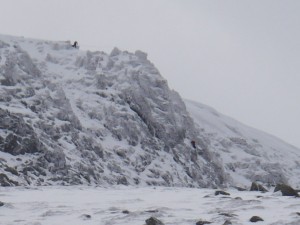 A closer view if you couldn't pick them out.

Paul
Comments on this post
Got something to say? Leave a comment