Happy Huskies!
14th March 2008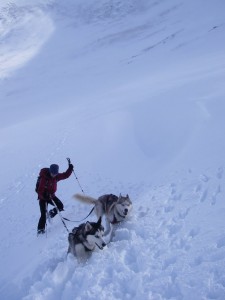 There's nothing like a bit of fresh snow for keeping your huskies happy, and these guys have been loving it all week!

There's still plenty of unstable cornices around and there's nothing like a bit of careful cornice dropping to keep an avalanche observer happy!
It was a lovely morning with plenty of sunshine and fairly steady winds. The snow remains quite poorly bonded in certain locations with surface layers shearing with minimal additional load being added. The cornices are in similar condition and I wouldn't like to test weight a big one at the moment – bear that in mind when selecting your routes this weekend.
Saturday's forecast is for a mostly dry day with just isolated snow showers. North winds at 25-30mph and minus 1 at 1000m. So not bad conditions really. Aspects that have been exposed to the wind this week are well scoured and icy so there will be some fun to be had if you pick the right route.
We did spot one ski tourer out today and there is some good skiing snow around but there is also a real mixture of snow conditions to contend with. The snow level was creeping up the hillsides today with some of the smaller hills fairly free of snow. From about 800 metres you will be encountering snow – in some areas you will have to trail break and in exposed areas you will have good if somewhat firm conditions underfoot. So enjoy your weekend!
Sam
Comments on this post
Got something to say? Leave a comment