Good conditions?
20th March 2008
Grampian Police Mountain Rescue Team were out at Garbh Corrie Yesterday (19th March) for some lowering practice.
With some snow and N winds due the corrie will have some sport to offer shortly.
Setting up on the Mitre Ridge Arete.
Bob and stretcher heading down the West Wall.
Looking down NW Gully and the jumar return.
Hot off the press! Just back in from Lochnagar the boys from the Police and Braemar Team have reported avalanches down Parallel A +B, Raeburns and West Gully over lunchtime. At 3.45pm it was still +1.3 at 920 mtrs.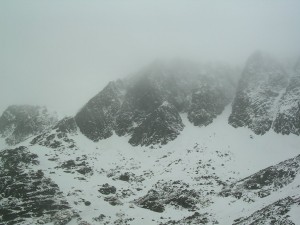 Lochnagar today (20th March) Pic from Phil

Looks like we may get some snow tommorrow. Hopefully Glenshee will have some decent snow, it currently has a nice base for it to fall on. After tommorrow looks like conditions for climbing are coming good.
Paul
Comments on this post
Got something to say? Leave a comment