Consolidation
16th March 2008
The recent unstable snow is starting to consolidate. It should remain cooler tonight and tomorrow so hopefully things will freeze up.
Touring remains okay, people seem to be putting skis on around the 800 metre line. You'll have to pick your line, it's still mixed conditions. Nice set of tracks leading up to the Creag Leacach ridge but I've noticed more people using the closed up tracks/pistes. The whole Corrie Fionn/Glas Maol pistes are in good shape but not open as there is no complete uptrack from the ski area.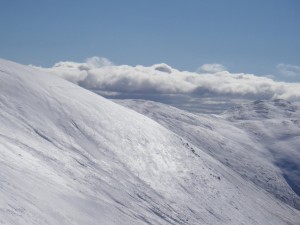 View towards Creag Leacach, spot the tracks?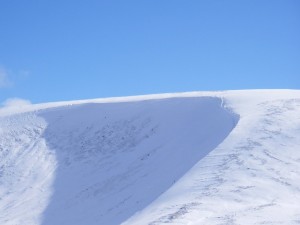 Glas Maol, Corrie Fionn was mostly emptied by wind earlier this week.
Paul
Comments on this post
Got something to say? Leave a comment