Thaw Forecast
6th February 2008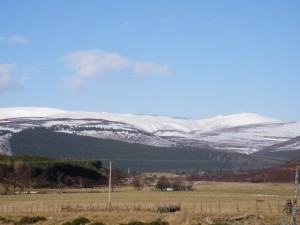 View of Ben Avon from A93
Looking from Carn an Tuirc to Carn a' Gheoidh
Looking North across Coire Kander – Notice the blurred edge of the coire due to the volume of drifting snow.
As you can see from the photos we had good visibility today which allowed us to spot some sets of avalanche debris from Monday – two fairly decent sized open slope slab avalanches with starting zones at 750 metres.
The snow remains cold and dry and was being easily transported in the wind today above 800 metres. There was fairly constant drift occuring on E to S aspects at higher elevations – something to remember for tomorrow. Coire Kander was very snowy on one side of the coire but there was a distinct lack of ice in there.
The forecast for tomorrow is fairly grim with a 2000 metre freezing level, some rain and 40 mph winds. There will definitely be a period of instability when these new accumulations become further destabilised and natural avalanches will occur. Cornice collapse will also be an issue. Wish I could say something positive but the forecast I've seen looks like it could be mild for a few days.
Sam
Comments on this post
Got something to say? Leave a comment