Another day in the office.
12th February 2008
Well it was another nice day, we're being spoiled!
In the absence of anything icy we headed to Corrie Etchachen and had a wander up Quartzvein Edge. 3 pitches of warm rock and in the sun all the way up – better conditions than you get in summer!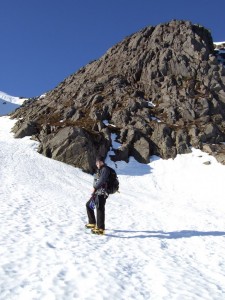 Most of the crags are dry with firm snow in the easier gullies.
Sam on the last pitch.
Towards Cairn Toul and Braeriach.

Paul
Comments on this post
Got something to say? Leave a comment