Welcome back!
19th January 2008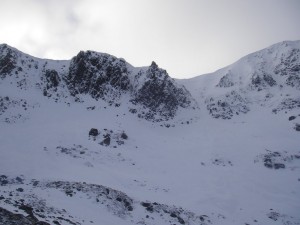 Although Lochnagar has it's regulars, it felt a bit more like the 'good old days' today. There were around 50 climbers in the corrie mostly on Central Buttress and Shadow Buttress A but a few other routes were being climbed as well. Black Spout Buttress,Pinnacle Gully 1, an abortive attempt on Parallel Buttress, Parallel A, Eagle Ridge, Douglas Gibson Gully, Shadow B and Shadow A,which had a few teams on. There were a few routes being done on the front face of Central Buttress, 1 guy making a nice job of CB Direct(I think). CB itself was popular today and there were a few climbers accross in the Southern Sector.
Some routes still have quite a bit of snow on them, top marks for teams that headed for them. There is still more improvement to come at Lochnagar but hopefully we'll see a few more thaw freeze cycles yet.
It was the easiest walk in of the season!
Oh yea, the snow stability is improving.
Comments on this post
Got something to say? Leave a comment