Thaw continues
27th January 2008
A dry and windy day. Not as windy as last night, 120mph at
Cairnwell
summit.
Went up with the
Braemar
Mountain Rescue Team and watched them doing chairlift rescues. Interesting stuff.
Setting ropes up -chairlift evacuation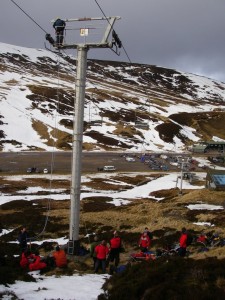 Chairfift evacuation
Heading up the hill found Tayside Team training in Corrie Fionn.They were doing various avalanche and winter skills workshops.
There had been a overnight cornice collapse in Corrie Fionn. This had ripped out some slab under it. This had failed on a moderately bonded wetter layer we mentioned earlier in the week. This layer may be an issue on steeper slopes in the ongoing thaw.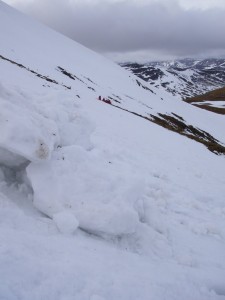 Cornice/wet slab debris. Tayside MRT in distance
Cornice remnants and crownwall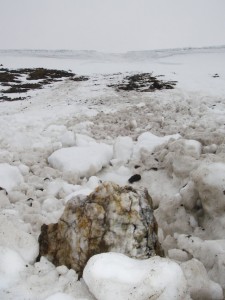 Plenty rock in the debris.
Paul
Comments on this post
Got something to say? Leave a comment