Snow AND visability!!
6th January 2008

It was great to get some visability today.
There was some debris around, this was just above the Glenshee road (A93) at around 600 metres.
Generally the snow stability has improved. There is more snow due tonight and tomorrow.

The pit site was in the main Gully at Corrie Kander. We didn't see much ice about. As you can see it's still a bit snowy.
The ski touring is good. A few scoured areas to get past but otherwise the best we've had for a while.
Approaching Cairn o Claise.
Looking back to The Cairnwell from Carn an Tuirc.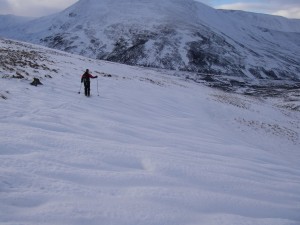 Sking through all the thaw lines in the snow, sub 700 metres, was hard work.
Paul
Comments on this post
Got something to say? Leave a comment