4 letter words.
21st January 2008
Mother told me never to use 4 letter words however – rain and thaw come to mind.
Looks mild and a bit windy tomorrow .
The majority of the snow is fine, scarp slopes and gully exits probably will be the issue tomorrow. Cornices will be very suspect later tomorrow.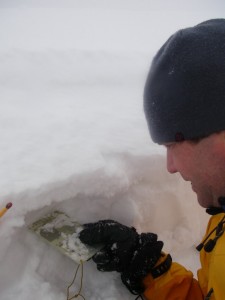 Spot the facet, similar to Spot the Dog
Still a good variety of snow types on the hill at the moment. Noticed some thinnish (2cm) Melt Freeze crust with softer icy snow underneath breaking away from ski's today. On closer inspection there was a few cm's underneath that had facets starting to develop. The surface snow was -3.1 and only 10cm down it was -0.6. This temperature gradient in shallow snow is causing some kinetic growth. With further snowfall these areas would potentially be start zones for avalanches, but see above….
Paul
Comments on this post
Got something to say? Leave a comment