Stunning Sunday!
30th December 2007
It was a stunning day on the hills with a light covering of fresh snow from around 700 metres. The ground was fairly firm again and a lot of ice patches had reformed. The old snow is very firm with some limited areas of windslab to watch out for.
The landscape with the trees in the foreground is of Beinn a' Bhuird taken from the A93.
The crag shot shows conditions in The Stuic at the moment. Quite lean but the snow and turf are well frozen at present.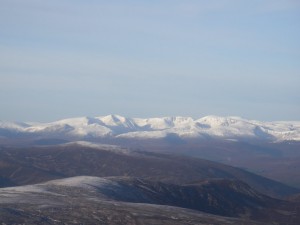 The distant landscape shows the snowline and the Braeriach hills.
Now after showing you snow and a blue sky, I have to tell you that Monday is forecast to be wet and mild…
Sam
Comments on this post
Got something to say? Leave a comment