Good news, bad news.
26th February 2007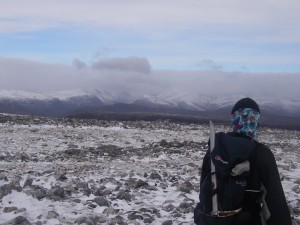 With some decent visability today we visited Carn Bhac. This munro is quite possibly the best viewpoint within our area as you get a 360 view of the tops.
When it comes to snow cover we often get differences between the main Cairngorms and the White Mounth, it's very noticable at the moment.
Bit patchy on the WM but there is still plenty in the corries and easier gullies. Some easy munro ticks at the moment.
The south side of the cairngorms is still a bit patchy although they are a bit more extensive by comparison. You could manage a ski if your prepared to carry and do a walk.
However the important bit is that it was cold (at last) and all the older snow is very frozen. The ground had also frozen and some ice has formed around watercourses.
Snow due tonight/tomorrow but it's going to warm up hopefully we'll keep some.
Paul
Comments on this post
Got something to say? Leave a comment