Lochnagar 25th
25th January 2007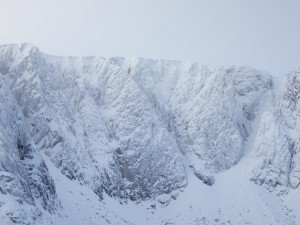 Photo's from today in the corrie. Sill very dry and snowy, bit of clearing required but at least it's wintry. Very quiet only a few climbers in today. Gullies have filled up as has the rock apron in some areas. The snow is still not stable in some areas. There is still hard and soft windslab around.
Elsewhere the higher areas are ok for a ski, getting back down is still interesting, be prepared to carry. Cover still needs a bit of work to make it enjoyable.
Glenshee has got some ski runs open.
Paul
Comments on this post
Got something to say? Leave a comment