Blue Sky Again!
3rd April 2013
Wow – it was a stunner again today!
Blue sky and sunshine, very light winds and awesome snow cover….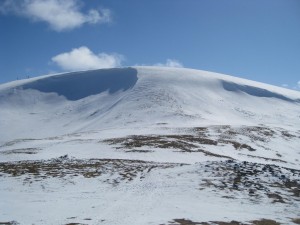 While the stability in most areas is gradually improving, there are just a few areas that are still giving cause for concern, due to the much written about (recently) facetted crystals. The photo above highlights what we are talking about: Steeper, shaded locations on West to North aspects above 800 metres – just like the two areas shown on the photo…
This photo of Cairn of Claise and Glas Maol shows two matching sets of avalanche debris – (due to storm instability over a week ago) – these aspects are holding large amounts of snow that will be around for quite a while.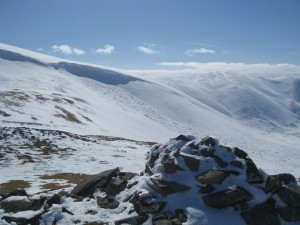 Another large set of avalanche debris (previously shown in the blog) on the West aspect of Glas Maol. Having chatted to the other forecasting areas, it sounds like the South Cairngorms has been lucky receiving a great covering of snow without the harsh winds that have scoured other areas. Ski tourers here have been making fresh tracks everywhere, with the great weather enabling some fantastic trips to be made.
Top tip – don't forget the sun cream – it's a bit Alpine out there!
Comments on this post
Got something to say? Leave a comment