Spring on hold – just.
23rd March 2009
It's been a windy, cold day. Cloud came and went all morning. There has been a bit of new snow, most of it has been blown through onto sheltered areas. The deepest I came across was about 40 cm's but mostly it was less than this. Old snow is variable in hardness- from frozen to very soft.
Snow tomorrow but turning to sleet/rain as the F/L rises to 1100 metres.
Pic: Glas Maol summit today.
Pic: From Glas Maol plateau looking to Creag Leacach. Winds have been very strong.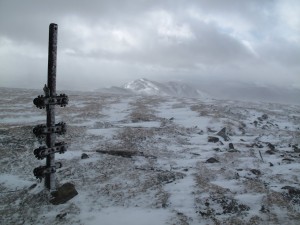 Comments on this post
Got something to say? Leave a comment